The Best National Parks In India | Jim Corbett National Park
India has always been known as a country of diversity and vast natural beauty. India offers many tourist destinations which capture the attention of every tourist who visits this country. India has some great national parks, the best-kept secret in this country.
In this blog, we'll discuss one of the best national parks in India, Corbett National Park of Uttarakhand. This park is not only a major tourist destination but also considered one of the best national parks in India by many people who have visited it.
Also Read: Hiking In India
Best National Parks In India | Jim Corbett National Park
Jim Corbett National Park is the oldest national park in India and was established in 1936 as Hailey National Park. The park was renamed in 1955 after the famous hunter and conservationist Jim Corbett played a key role in its establishment.
Jim Corbett National Park has earned its place in the heart of both people and tourists to wildlife. It is one of the oldest National Parks in India, and it has contributed to the protection of endangered species and boosted the tourism of wildlife in India.
Jim Corbett National Park turned 85 on August 8th, 2021. It was on the exact day, August 8th, that it was first brought into existence and became the crown jewel of all National Parks of India.
The Park is well-known because it has the highest number of tigers compared to the other Indian National Parks. It is located in the Himalayan valley, close to the beautiful hill station of Nainital; Jim Corbett offers stunning perspectives of Garhwal.
Jeep safaris are among the most memorable things to do within Jim Corbett National Park. When you go on a jeep safari, incredible views of lakes, hills, grasslands, rivers, and waterfalls will enthral your creative imagination and delight your senses. It is among the most beautiful places to visit in Uttarakhand.
Also Read: Ramayan Express Train
Planning Trip to Jim Corbett National Park
The Winter Time: Jim Corbett Park is open from October until February. The weather is perfect for exploring and seeing diverse wildlife, and it is the ideal time to go to this park for your safari vacation. Jhirna, Dhikala, and Bijrani Safari Zones are still open this time of year, and you can visit the Safari Zone in Winter.
The season is ideal for watching birds and seeing threatened wildlife. The temperature dips to 5 degrees Celsius at night; however, in the daytime, you can observe animals lying in the sun.
The Summer Time: The summer season begins in March and continues until June. The temperatures are extremely high throughout this time. This is an ideal moment to observe animals thirsty from the summer heat and seek out water to drink. River Rafting is the most enjoyable activity.
The Monsoon season: The monsoon season is not an ideal season to take advantage of your wildlife holiday. Due to the high amount of rainfall, it is possible to see soil erosion and landslides.
The weather is beautiful, and the landscape will be stunning, with lush greenery at its best. However, it's not the best time to visit the park, and it is the perfect moment to experience Trekking here when it is Monsoon. The main road between Dhikala and Bijrani Safari Zones is completely removed, making it extremely risky for tourists to visit the area.
What to do in Jim Corbett National Park?
The stunning landscapes, lush greenery, and lofty hills will please your soul with the thrilling and exciting game in River Rafting at Kosi river. It's among the most enjoyable activities within Jim Corbett National Park.
Enjoy wildlife photography and experience the wild animals on a Jeep Safari.
Fishing is among the most sought-after activities that you can do at Jim Corbett National Park. You can see Goonch, Mahseer, in the serene Ramganga River and Kosi River.
A ride through the peaceful forests in Jim Corbett's hills will excite your trip.
An old suspension bridge was constructed in the Kosi River. It is the most suitable location for rope slithering.
Body surfing on the Kichadi River is one of the most enjoyable activities you can enjoy with your family and kids at Jim Corbett National Park, and it's completely safe.
The camping experience is the best relaxing sport and the perfect method to spend time with your loved ones and family.
Get the blessings of God from the Garjia Temple.
Also Read: Solo Backpacking Tips
How to Reach Jim Corbett National Park?
By Road: Jim Corbett is well connected to Delhi, Ranikhet, Haridwar, Dehradun, and Lucknow.
By air: The closest airport for getting to Jim Corbett National Park is Indira Gandhi International Airport in Delhi. Pantnagar Airport is the closest domestic airport that can be reached from here. You can use a Cab or Taxi to get to this location directly from your airport.
By Rail: It is the closest Railway Station to reach Jim Corbett. There is an express train directly from Delhi to Ramnagar via Delhi.
Interesting Facts about Jim Corbett National Park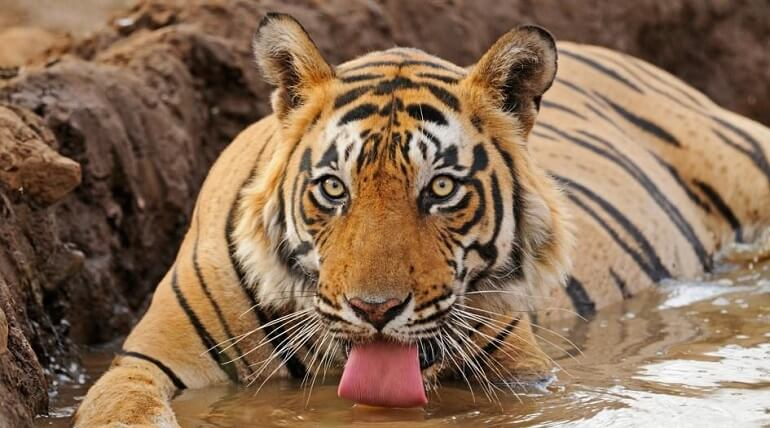 Jim Corbett – Indian National Park is the most natural habitat for tiger species in the Himalayan region.
It is among the most sought-after tourist attractions for wildlife-related holidays in India.
The Park contains several endangered species such as Asian Elephants, Alligators, Sambhar Deer, and many more.
Tiger Safari is the best activity to experience in Jim Corbett National Park as it is the park's primary attraction.
Asian Black Bear, Walking Deer, Hog Deer, Sambar, and Sloth are some of the most well-known animals in Jim Corbett National Park.
Corbett Wildlife is more interesting because it is home to 600 bird species. The most prominent of these are the Great Pied Hornbill and White-backed Vulture. Peacock, Hodgson Bushchat, green pigeon with orange breasts, sea eagles, Golden Oreo, and fish owl, among others.
One of the least-known details regarding Jim Corbett National Park is that it also has endangered reptiles, such as King Cobra and Mugger Crocodiles.
Also Read: Travel To Uttarakhand
Conclusion
Indian national parks are among the best in the world and are home to various wildlife, including tigers, elephants, and leopards. If you're looking for the best tiger reserve in India, you must visit Corbett National Park. Apart from this national park, you can also visit MP Kanha National Park, which has its large population of tigers and beautiful scenery and will make your trip unforgettable.
You can also read the latest Travel Web-Stories