A Complete Puri Travel Guide: Eat, Stay, Explore & Top Attraction
Puri, a small town in Odisha in Eastern India, has made a mark on the map for its abundance of temples and natural beauty. Known as the 'Temple Town', Puri is home to the famous Jagannath Temple, a holy site for Hindus, and boasts the title of having the largest kitchen in the world. The temple premises come alive with a staggering 24 festivals yearly, including 13 major ones attracting devotees from all the country's corners.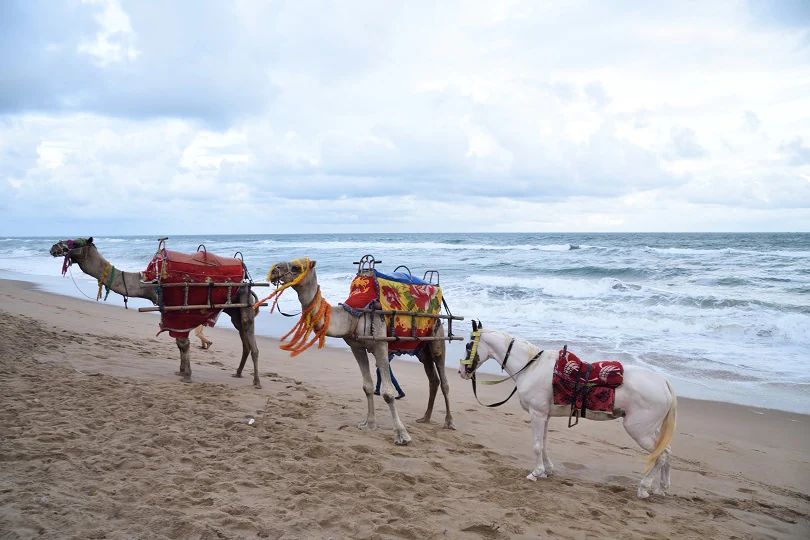 Aside from the renowned Jagannath Temple, Puri also boasts two ancient monuments of great historical significance. The Markandeswar Shiva Temple and the Konark Sun Temple, among the oldest structures in India, stand as a testament to the town's rich cultural heritage.
And when you thought Puri couldn't get more captivating, there's the Nalbana Bird Sanctuary or Nalbana Island. During the migratory season, this enchanting island becomes a temporary home to thousands of birds, providing a captivating spectacle for nature lovers.
Puri truly embodies the essence of a place that seamlessly combines spirituality, history, and natural beauty. Whether you're seeking divine enlightenment, a journey back in time, or a serene retreat in the lap of nature, Puri offers it all and more.
How to Reach Puri
The sacred city of Puri, recognized for its spirituality, is tucked away in the state of Odisha. The city is a crucial pilgrimage stop regarded as one of India's Char Dhams. Travelers visit the city to receive blessings from the Jagannath Temple, not just from within the nation but worldwide.
In addition, there are other tourist destinations such as Chilika Lake, Model Beach, Puri Beach, and Chilika Wildlife Sanctuary. All modes of transportation, including air, train, and road, are available for travelers to reach this tourist destination. The best ways to travel to Puri are by air and rail; nearby people can travel by road.
VIA AIR
Air travel is an option for passengers who value their comfort and convenience. The city has no airport, but visitors can fly into Bhubaneswar's Biju Patnaik International Airport. About 58 km separate the city from the airport.
VIA RAIL
The city has a railway station that connects to other important cities and regions of the nation, including Delhi, Mumbai, Chennai, Hyderabad, and more.
VIA ROAD
The best way to go to Puri is by road in close-by cities like Kolkata, Jamshedpur, or Visakhapatnam, to mention a few.
Best Time to Visit Puri
With its abundant spirituality, Puri has established itself as one of Odisha's most sacred travel destinations. Whether the renowned Jagannath Temple or the revitalizing Puri beach, every corner of Puri holds a special allure that draws people to visit repeatedly. Puri boasts a delightful and mild climate throughout the year, but during October and November, it truly shines as the perfect time to pay a visit.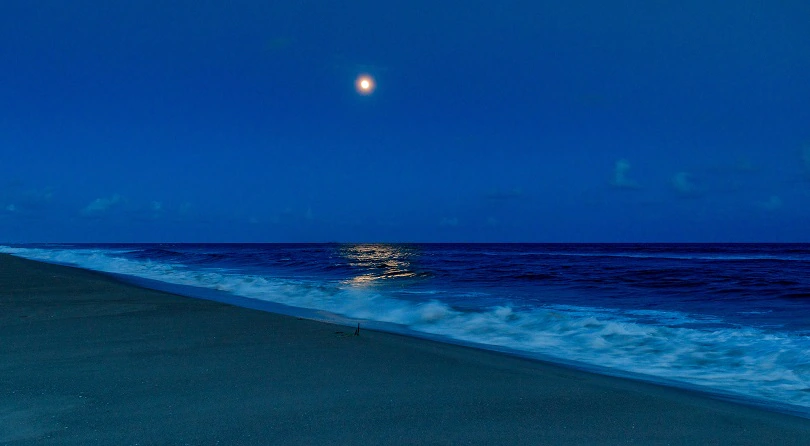 SUMMER
During the summer, Puri experiences hot and humid weather, with temperatures soaring up to 39°C. For those planning a trip to Puri in the summer, it is recommended to pack lightweight cotton clothing to enjoy the experience fully.
MONSOON
Monsoon in Puri welcomes travelers who wish to immerse themselves in the renowned Rath Yatra, an annual chariot festival. While the weather during the monsoon season is generally cool due to heavy rainfall and thunderstorms, planning a trip to Puri in the months following the monsoon is advisable for a more pleasant experience.
WINTER
The refreshing winter season in Puri begins in November; during this time, the city truly shines as a tourist destination. The temperature drops to a pleasant 16°C, adding an enchanting charm to everything in Puri. One of the main attractions that draw travelers to Puri during this time is the beach festival in November.
Puri Travel Guide: Top Attractions
Here are some of the top attractions you can explore in Puri:
Jagannath Puri Temple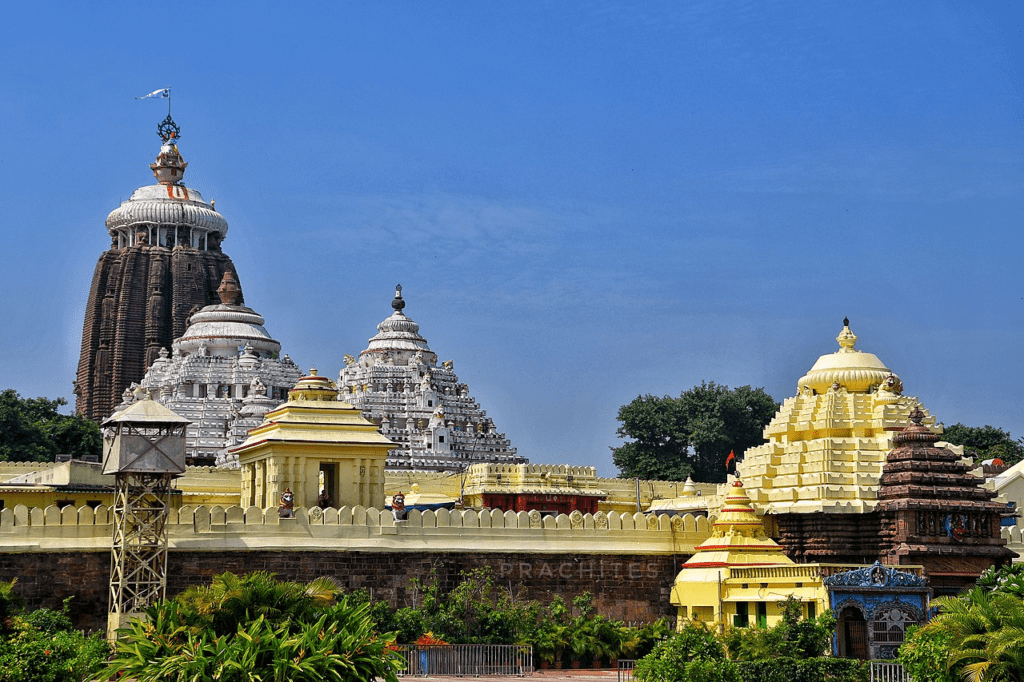 One of India's most famous and revered temples, the Jagannath Temple is an architectural marvel that symbolizes spiritual devotion and cultural heritage. Dedicated to Lord Jagannath, an incarnation of Lord Vishnu, this ancient temple attracts thousands of pilgrims and tourists every year.
The temple's towering spires, intricately carved walls, and vibrant festivals, like the Rath Yatra (Chariot Festival), make it a must-visit terminus/destination for anyone seeking a deep connection with Indian spirituality and tradition.
Puri Beach
Nestled along the shores of the Bay of Bengal, Puri Beach is a picturesque expanse of golden sands that captivates visitors with its tranquil beauty. The rhythmic sound of the waves, the soft sea breeze, and the breathtaking sunrise and sunset views create a serene ambiance, making it an ideal spot for relaxation and rejuvenation.
Along the beach, you'll find colorful fishing boats, local vendors offering delicious seafood snacks, and a lively atmosphere during festivals and holidays.
Konark Sun Temple
A short drive from Puri lies the magnificent Konark Sun Temple, a UNESCO World Heritage Site and a testament to ancient Indian architectural brilliance. Shaped like a colossal chariot adorned with intricate stone carvings, the temple is dedicated to the Sun God, Surya.
The detailed sculptures depict various aspects of life, mythology, and culture, making it an architectural treasure trove and a photographer's paradise.
Chilika Lake
Located about 50 kilometers from Puri, Chilika Lake is a vast, shimmering lagoon stretching as far as the eye can see. This brackish water lake is home to a rich ecosystem and serves as a sanctuary for numerous migratory bird species during winter.
Nature enthusiasts and birdwatchers flock to Chilika Lake to catch a glimpse of these avian visitors, including flamingos, pelicans, and herons. The serene boat rides amidst the lake's serene waters offer a unique and tranquil experience.
Puri Sea Beach Market
A visit to Puri is complete with exploring the bustling market near the sea beach. Here, you can enjoy the vibrant atmosphere while shopping for local handicrafts, intricate Pattachitra paintings, traditional masks, seashell souvenirs, and other delightful trinkets. Interacting with local artisans and vendors provides insight into the region's rich cultural heritage and craftsmanship.
Raghurajpur Artists Village
About 15 kilometers from Puri, Raghurajpur is a quaint and artistic village known for nurturing skilled artisans and craftsmen. The village is a haven for Pattachitra artists who create intricate and colorful traditional paintings, along with skilled mask-makers and palm-leaf engravers.
Visitors can witness these talented artists at work, learn about their creative process, and purchase unique art pieces as cherished mementos.
Gundicha Temple
The Gundicha Temple holds significant religious importance as it is associated with Lord Jagannath's annual Rath Yatra (Chariot Festival). During this grand festival, the deities are taken on a procession from the main Jagannath Temple to the Gundicha Temple, where they stay for a few days.
The temple's architecture, religious rituals, and festive fervor make it an essential stop during your Puri visit, especially if you wish to witness the vibrant Rath Yatra celebrations.
Chakra Tirtha Temple
Situated near the Puri beach, the Chakra Tirtha Temple is a small yet revered shrine dedicated to Lord Vishnu. What makes this temple unique is its sacred pond, where devotees take a holy dip before proceeding to the Jagannath Temple for darshan (sacred sight) of the deities. The tranquil ambiance of the temple and the surrounding area provides a sense of spiritual serenity.
Sri Lokanath Temple
Located near the Puri beach, the Sri Lokanath Temple is an important expedition site for devotees of Lord Shiva. According to mythology, this temple is believed to be where Lord Shiva hid himself to avoid being captured by the wrathful goddess Kamakhya during a pilgrimage. The temple's history and religious significance are intriguing to Puri's spiritual landscape.
Swargadwar
Swargadwar, which translates to "Door to Heaven," holds immense spiritual significance for Hindus. It is a sacred cremation ground where it is believed that those cremated here achieve salvation & liberation from the cycle of birth and death. Visitors often come here to witness the rituals and reflect on the transient nature of life, while the serene environment encourages contemplation and introspection.
Nalabana Bird Sanctuary
In Chilika Lake, the Nalabana Bird Sanctuary is a haven for birdwatchers and nature enthusiasts. During winter, the sanctuary temporarily becomes home to many migratory birds, including flamingos, pelicans, and storks. Seeing these beautiful and lovely birds in their natural habitat is a delight for visitors.
Siruli Mahavir Temple
Located around 20 kilometers from Puri, the Siruli Mahavir Temple is an age-old shrine devoted to Lord Hanuman. The temple's serene surroundings and peaceful ambiance provide an ideal spiritual contemplation and relaxation spot.
Chandrabhaga Beach
Just a short drive from Konark Sun Temple, Chandrabhaga Beach offers a pristine, less crowded alternative to the Puri beach. The beach is known for its tranquil atmosphere and beautiful views, making it a great place to unwind and enjoy the serenity of the sea.
Vimala Temple
Situated within the Jagannath Temple complex, the Vimala Temple is dedicated to Goddess Vimala, a form of Goddess Durga. The temple's architecture and religious significance make it an essential stop for devotees and history enthusiasts.
Pancha Tirtha
Pancha Tirtha refers to the five sacred tanks in Puri where pilgrims take ritual baths before visiting the Jagannath Temple. These tanks are named Markandeya Tirtha, Indradyumna Tirtha, Swetaganga Tirtha, Rohini Tirtha, and Mahodadhi Tirtha. Taking a holy dip in these tanks is believed to cleanse one's soul and purify the mind.
Konark Beach
Adjacent to the famous Konark Sun Temple, Konark Beach offers visitors a serene and picturesque setting. The beach's golden sands, the roar of the waves, and the scenic beauty create a perfect backdrop for a stroll or a peaceful beach picnic.
Baliharachandi Temple
Situated on the coast, about 27 kilometers from Puri, the Baliharachandi Temple is dedicated to Goddess Harachandi. The temple's location, surrounded by natural beauty and tranquillity, makes it a popular destination for pilgrims and nature lovers.
Sudarshan Crafts Museum
Founded by the renowned artist Sudarshan Sahoo, this museum showcases exquisite handicrafts and art pieces, including stone and wood carvings, Pattachitra paintings, and traditional sculptures. It is a fantastic place to explore and appreciate the rich artistic heritage of Odisha.
Bedi Hanuman Temple
The Bedi Hanuman Temple is dedicated to Lord Hanuman near the Jagannath Temple. The temple is situated in a small cave-like structure, and it holds religious significance for devotees who seek blessings from Lord Hanuman.
Raghurajpur Artist Village
Renowned as the heritage crafts village of Odisha, Raghurajpur is a vibrant hub of traditional art and culture. The village is home to skilled artisans specializing in Pattachitra paintings, palm leaf engravings, stone and wood carvings, and mask-making. A visit to this village presents a unique opportunity to witness the artistic prowess of local craftsmen and take home some exquisite souvenirs.
Conclusion
Discover the enchanting coastal gem of Puri, where spirituality meets serenity and art intertwines with history. The sacred Jagannath Temple stands as a beacon of devotion, while the soothing waves of Puri Beach invite relaxation and contemplation. The artistic flair of Raghurajpur Village and the architectural brilliance of Konark Sun Temple add to the city's allure.
Immerse yourself in the vibrant local markets, savoring the flavors of tradition and craftsmanship. Puri's charm lies in its seamless blend of history as well as natural beauty, making it an unforgettable travel experience. So, discover India's soul in this captivating coastal gem—Puri awaits your embrace!