Hiking 101: How to Plan And Prepare For Hiking In India
You've heard about the wonders of hiking in India and want to try it out yourself. Whether you're planning a trip specifically with the intent of hiking in India or just looking to add some extra adrenaline to your vacation itinerary, this step-by-step guide will help you plan and prepare for hiking in India before you even leave home.
5 Hiking Tips You Need to Know
Physical preparation
Before you start jungle hiking in India, getting your body in shape is important. After all, you'll carry all your gear on your back, often in hot and humid conditions. Here are five tips to get physically prepared for your hike:
Start a conditioning program at least six weeks before your trip
Spend time gradually increasing the length of hikes and intensity of workouts
Practice with a heavy pack before you head out on the trail
Pack light but essential items
Stay hydrated with lots of water.
Also Read: Solo Backpacking Tips
The right gear
Make sure you have a good pair of hiking boots, a daypack, a map, and plenty of water and snacks. You should also dress in layers to adjust to the changing temperatures. Bring some insect repellent with you as well. If you plan on going into any jungle hiking, make sure that you bring your first aid kit as well.
Packing suggestions
When packing for your hike, include plenty of sunscreens, a hat, sunglasses, snacks, water, and a first aid kit. You'll also have to wear comfortable shoes and clothes that can layer. Check the weather forecast in advance, so you know what to expect and can pack accordingly.
Find the right footwear.
When preparing for a hike, the first step is finding the right footwear. Depending on the terrain, you'll want to ensure you have shoes that can grip the ground and provide support. Backpacking boots are a good option for hikers carrying a lot of gear, while trail runners are lighter and more comfortable for shorter hikes.
If you're unsure what type of shoe is best for your hike, ask a salesperson at a hiking or outdoor shop. They should be able to help you find the right footwear based on the type of hike you're planning and the area you'll be hiking in.
Emergency Supplies
Always carry a first-aid kit with you whether you're hiking in the Himalayas or the Western Ghats. This should include bandages, antiseptic cream, painkillers, and insect repellent.
Make sure you have a map of the area you're hiking in – and know how to use it!
Always carry enough water with you, especially if you're hiking in a hot climate. At least three liters per person is a good rule of thumb. Some people also swear by electrolyte tablets for keeping hydrated during their hikes.
If you're hiking in an area with snakes, it might also be a good idea to bring along some snake bite antidote.
Do some research about what kind of terrain you can expect on your hike beforehand to prepare you well for any eventuality.
Also Read: Travel To Uttarakhand
5 Best Hiking Places in India
Hampta Pass Trek, Himachal Pradesh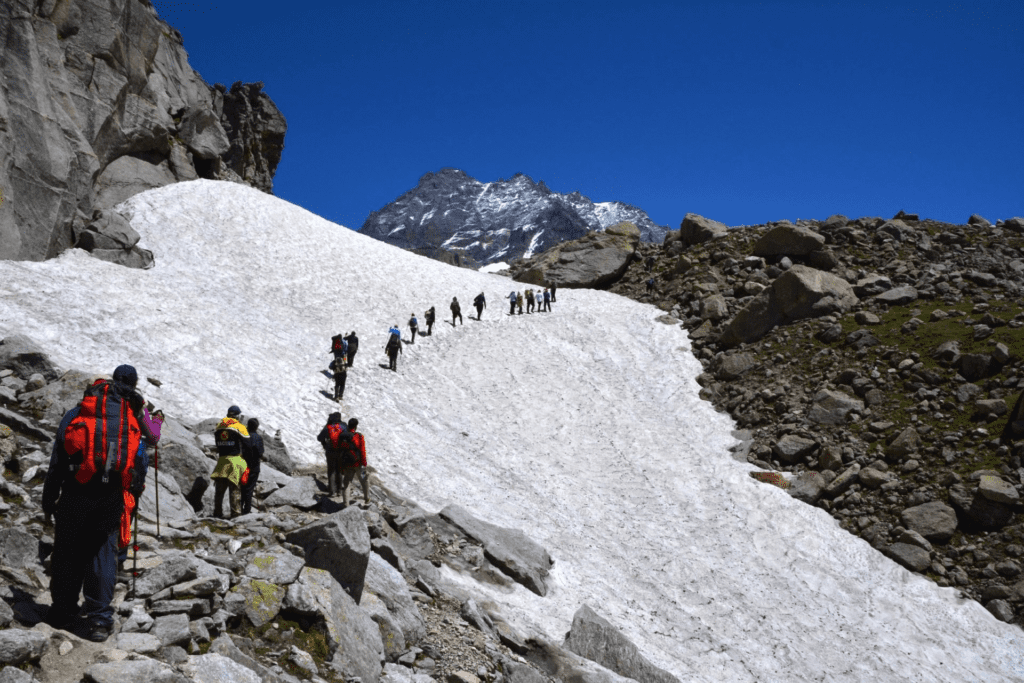 From Hampta in the Kullu Valley to Chatru in the Lahaul & Spiti Valley, this popular 35 km trek takes you to Hampta Pass. If this is your first high-altitude trek, this is an ideal setup for you. It will last about 4 to 5 days, with the highest altitude of 4400 m. You pass through snow-covered valleys, dense deodar forests, meadows, crystal clear streams, and ancient Himalayan avifauna, and finally walk through the barren lands of Lahaul-Spiti. There is also a night camp stay at Chandra Tal as part of the trek.
Beas Kund Trek, Himachal Pradesh
A popular hiking trail in Manali, walk along the banks of River Beas for wonderful views of the Pir Pinjal ranges, and Dhundi & Bakarthach meadows. To reach the originating point of the River, climb uphill and see a glacial lake. According to legend, this lake is also known as Beas Kund, where Sage Vyas, the author of Mahabharata, bathed.
Markha Valley Trek, Ladakh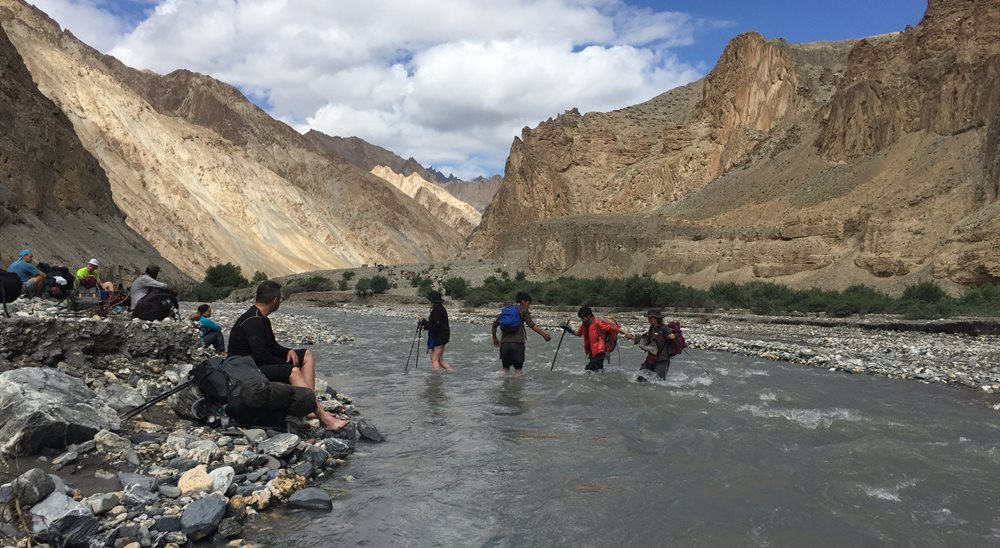 Markha Valley is one of the largest and highest valleys in Ladakh and one of the best hiking places in India. If you set out from Leh, the journey will take you through the Chilling, Skiu, Sara, Hankar, and Nimaling. While trekking for ten days, you will traverse the small villages and marvel at the preserved monasteries, forts, and temples.
Kuari Pass Trek, Uttarakhand
As you trek at 12,516 ft. in elevation, you will also see Dronagiri, Chitrakantha, Chaukhamba, and Tali top. As you hike, you will also pass through meadows, forests full of rhododendrons, and forests of oak trees, adding to the scenic experience. From here, you will also have an opportunity to see holy rivers like Bhagirathi and Alaknanda, which make your trek even more thrilling.
Har Ki Doon Trek Via Jaundhar Glacier
The Har Ki Doon Trek Via Jaundhar Glacier is one of the most popular treks in Uttarakhand. This trek starts from the Tapovan meadow and ends at the Jalandhar glacier. The trek is famous for its scenic views of the snow-clad peaks, green forests, and alpine lakes.
The Har Ki Doon can be done in six days and five nights. It is a moderate-level trek with an average gradient of 20%. The trail is a mix of forested paths that lead to open meadows and clearings.
Also Read: Kedarnath Yatra
FAQs
What is the best season to hike?
The best season for hiking in India is from October to March. The weather is cooler, and the days are shorter, so you won't get as tired.
What are the best hiking places in India?
Kanchenjunga Base Camp
Chadar Trek
Gomukh Tapovan Trek
Markha Valley Trek
Kuari Pass Trek
Pin Parvati Pass Trek
Nanda Devi East BC and Milam Glacier
Dzongri-Goecha La Trek
Shepherd Trail Trek
Chopta Chandrashila Trek
How should I prepare for hiking in India?
Hiking in India can be a rewarding experience, but it's important to be prepared. Above, We've mentioned tips to prepare for hiking in India.
What gear should I carry?
Regarding backpacking and hiking, there are a few key pieces of gear you should always carry with you. These include a map, compass, Mobile or torch, and first-aid kit.
How can I stay safe while hiking in India?
Always tell someone where you are headed and when you expect to return. Take a map of the area with you, and make sure it identifies the names of places. Bring water, food, and sunscreen with you if you are hiking for longer than planned. If possible, bring a cell phone for emergencies.
You can also read the latest Travel Web-Stories