8 Best tourist places to visit in Munsiyari Uttarakhand
Munsiyari Uttarakhand is the ideal location to experience high-altitude treks to numerous glaciers, and it's also the base camp of Nanda Devi. Long treks are available in the surrounding countryside, and the trails are through the juniper, birch, walnut, and rhododendron tree.
The town is situated at 2298 meters; the picturesque little town of the hill is well-known for its breathtaking views of the snow-capped Himalayan Range and thrilling treks. A variety of bugyals and meadows are lush and green at high altitudes.
Here's everything you'll need to know when planning to visit Munsiyari, Uttarakhand.
Also Read: Travel To Uttarakhand
Places to Visit in Munsiyari
Birthi Falls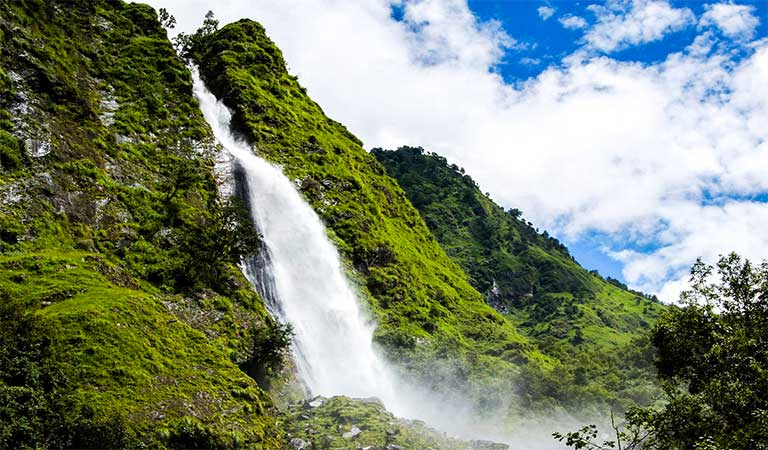 When you travel to Munsiyari on the way, you'll come across this stunning waterfall called Birthi Falls. It is 35 kilometers from Munsiyari and is among Kumaon Valley's most breathtaking picnic places.
The path to the fall involves a brief walk, and you'll have to park your car before going on the journey. If you're an avid trekker, you will find this hike enjoyable as it's devoid of any barriers and accessible from both sides.
Kalamuni Top
Along the route to Munsiyari town, there is an elevated tourist attraction called Kalamuni Top. It is situated 14 km from Munsiyari and at an altitude of 9600 feet. Kalamuni Top is an important place of worship for the inhabitants as it is home to an ancient temple dedicated to the goddess Kali.
The breathtaking views across the whole Panchachuli Mountains range are another reason that draws people to this location.
Thamri Kund
Thamri Kund is a perennial lake that is among the most beautiful freshwater lakes in the whole area of the Kumaon Valley. A stunning trek surrounded by dense trees of paper leads to the lake.
The hike takes approximately 8 hours to arrive at Thamri Lake from Munsiyari Township. The whole Lake of Thamri is protected by a large array of alpines that offer stunning views of the lake. It is also possible to spot the musk deer drinking water in the lake.
Maheshwari Kund
Maheshwari Kund is an ancient lake with an important mythological significance to it. Maheshwari Lake provides an artistic perspective from the Panchachuli mountain range. Several uncommon varieties of plants and marshland surround it.
Madkot
From 5 kilometers to Munsiyari Uttarakhand, Madkot is popular due to its natural hot water springs. There is a belief that hot springs that originate from the area can heal conditions like skin burns, body aches, and Rheumatism.
Madkot is a place with a very comfortable temperature that leaves visitors amazed by its enchanting beauty. You can search for taxi services in the city from Munsiyari up to Madkot.
Panchachuli Peak
A prominent peak is accessible from all central locations of the Pithoragarh district. Panchachuli summit is stunning from Munsiyari. The splendor of the five peaks in the Johar valley is appealing and adds a touch of elegance to an already stunning area.
Nanda Devi Temple Munsiyari Uttarakhand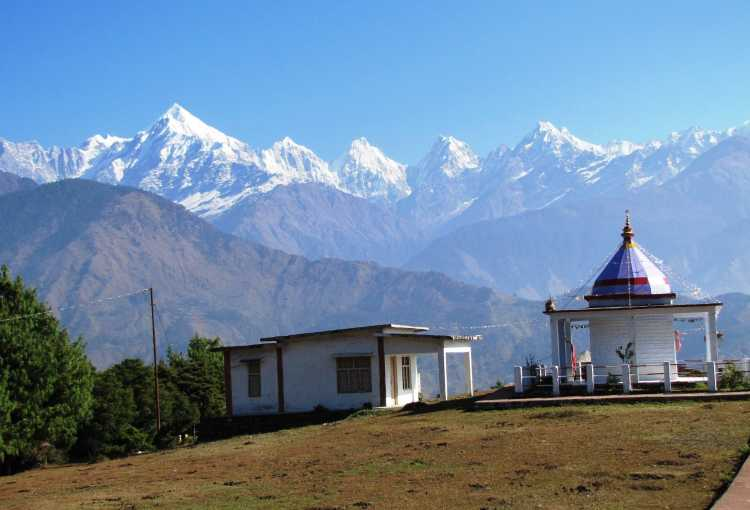 Nanda Devi temple is the most impressive temple, home of numerous pilgrimages and those who wish to seek blessings. It is a temple that is almost 1000 years of age that is which is dedicated to Maa Nanda Devi.
It is situated within Dharanaula, Almora city of Uttarakhand. It is just 3km from Munsiyari and can be reached through a quick hike. Its elevation is 7,500 feet. Panchachuli peaks are directly seen from the entry point into the shrine, making it a beautiful sight.
Tribal Museum
Tribal Heritage Museum was established in the year 2000. It is situated within Nanasen Village on Surender Singh Pangtey Road. Surender Singh Pangtey is the person who owns and runs his Tribal Heritage Museum. It is situated 2 km from the primary market in Munsiyari. It is possible to visit the museum by walking a short distance. There are no costs for visiting the museum.
Also Read: Hiking In India
When to Visit Munsiyari?
The ideal and best time to visit Munsiyari occurs between June and March and the months of September through October. The temperatures are mild, and October is the perfect month to observe the many hues of autumn.
Best Time to Visit Munsiyari
Month
High | Low (°C)
Rain
January
8° | -1°
16 days
February
12° | 0°
7 days
March
13° | 2°
22 days
April
16° | 5°
16 days
May
20° | 8°
8 days
June
22° | 11°
11 days
July
21° | 14°
31 days
August
21° | 14°
29 days
September
21° | 12°
25 days
October
19° | 8°
5 days
November
17° | 6°
7 days
December
12° | 1°
5 days
Best Time To Visit Munsiyari
Summer
Munsiyari is quite comfortable during summer, with the maximum temperature hovering about 27 degrees when the daytime temperatures are warm. The minimum temperature is 7degC which is sure to bring cold evenings.
Winter
Winters can be freezing in Munsiyari because the temperature occasionally falls to -3 degrees Celsius. When the sky is clear, temperatures rise to 15 degrees Celsius, and the daytime temperatures remain pretty hot.
Monsoon
The monsoon period runs between July and September, and during this period, most activities are stopped due to heavy rain. The most rainfall recorded in this region occurs during august.
Then, the weather is pleasant in November and October, and the temperatures remain low.
Also Read: Best National Parks In India
How to Reach Munsiyari?
Munsiyari is easily connected to its neighbors, Pithoragarh, Lohaghat, Champawat, Tanakpur, and Almora, via roads. The most efficient way to get here is by road.
By Railways
The closest railhead is Tanakpur which is located 286 km from Munsiyari. It is necessary to catch a bus to Pithoragarh or hire a taxi from here to get to Munsiyari.
By Road
The road network is reliable enough. You can also find state-run buses that go to Pithoragarh, which frequently operate between Haldwani/Kathgodam and Delhi. Taxis are the most convenient choice to get to Munsiyari.
By Air
Pithoragarh also has an air terminal named Naini Saini that will become operational within a few months. Another airport close to Munsiyari is Pantnagar, which is 188 kilometers from Munsiyari. You must book taxis to get to Munsiyari via Pantnagar.
Where to Stay in Munsiyari?
Munsiyari has a handful of hotels, but camping there is a great activity. The ideal accommodation for travelers is in Pithoragarh, and you can relax in the warm ambiance and enjoy the fantastic Munsiyari hotels in Pithoragarh.
Morning bliss can be enchanting when you gaze out of your bed and see the view from the mountains. From 3 stars to 1 star, they all have decent facilities and the most comfortable experience. Camping is also an option in Pithoragarh and surrounding areas where the night sky is full of stars and the surrounding landscape is adorned with stunning Himalayan ranges are great locations.
Also Read: ramayan express train ticket price
Final Thoughts
In conclusion, there are many things to do in Munsiyari and many places to see. No matter what time of year you visit, there is always something to do. Whether you're looking for adventure or relaxation, Munsiyari has it all.
Enjoy the beautiful view of nature at the Munsiyari hill station while trying various local food dishes. For those who need a break and change from the hustle and bustle of city life, then this place is perfect for you!
You can also read the latest Travel Web-Stories