How to Plan Hawaii Trip: Everything you need to know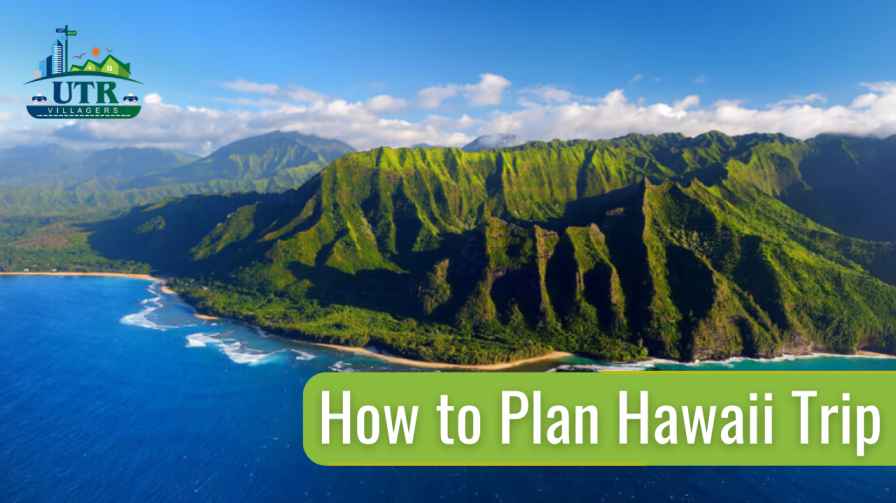 Today we will tell you how to plan Hawaii trip travel and which top tourist places must be visited. Hawaii is one of the 50 US states. It is undoubtedly one of the most visited destinations in the US, as well as around the globe. It's a grouping of volcanically formed islands. Hawaii is in the Pacific and offers beautiful beaches with white sand, surfing spots, active volcanoes, and breathtaking hiking trails. Many people yearn to travel in Hawaii. It's a beautiful place with stunning beaches and dramatic volcanic landscapes. The lush green hills make it one of our favorite places.
You can also read:Top 10 Tourist Attractions in New York City You Can't-Miss
To plan your trip as effectively as possible, do some research and familiarize yourself with what Hawaii offers. This guide will help you with everything you must know when you plan a Hawaii trip.
When To Go
When planning a trip to Hawaii in 2023, it is important to consider the ideal time to visit. Although Hawaii is a year-round destination, certain times of the year are more popular and may be more expensive. It is best to avoid the peak travel season between June and August. Although the weather will be more consistent and sunny, it will also be less available and expensive. There will also be more people to deal with.
Winter and shoulder season are more accessible for accommodation and tours, fewer crowds, and generally cheaper hotel and airfares. The climate varies depending on where you go, so always remember when deciding when to go. Some parts of the islands get very hot during summer, while others experience rainier seasons.
Top 5 Places to visit in Hawaii
Hawaii is the most beautiful place and has exciting and the best destinations in the world. From stunning beaches to lush rainforests and breathtaking views, Hawaii has something to offer everyone. Before you plan your dream Hawaiian vacation, here are some of the most popular Tourist places in Hawaii to consider when traveling in Hawaii:
You can also read: 15 Interesting Facts About Hawaii: Know Everything Before Traveling
1. Oahu is the Miami of Hawaii
Amazing white sand beaches, with the best nightlife and the largest city in Hawaii. Oahu's main focus is on resorts and tourist attractions. This draws people who want a fun, planned vacation rather than explore. It is the most popular island in Hawaii.
2. Kauai: The Denver in Hawaii
There are many romantic restaurants and luxurious accommodation options, but the island's most notable feature is its natural beauty. Kauai is a great place for adventure seekers, hikers, and nature lovers who view Hawaii as more of a place to explore than a place to relax.
3. Maui: Hawaii's Los Angeles
Beautiful beaches attract many high-end tourists but are also attractive to those who prefer to travel in Hawaii by car. Maui offers a mixture of luxury vacations, self-drive tourism, and relaxation-on-the-beach enthusiasts. This island is the second most popular with tourists.
4. Big Island: The Seattle of Hawaii
It is a slow pace, with friendly people. There are many natural beauties to discover. However, it takes more effort. People who value privacy, solitude, and a budget more than extravagant experiences and manufactured goods will love the Big Island.
5. Moloka'i: The Friendly Isle" OR also the "most Hawaiian
It is home to the largest native Hawaiian population and among the best Tourist places in Hawaii. Moloka'i is located in the middle of the main Hawaiian island chain and only eight miles away from Maui. It takes just 25 minutes to fly there.
The island has only 8,000 inhabitants and receives the fewest visitors annually of all the Hawaiian islands. Moloka'i may be a good choice for those who want to see an unspoiled version of Hawaii that has remained relatively unchanged through the years.
You can also read: Top 10 tourist places to visit in Hawaii in September month
What To Eat and Where to Eat?
When planning a trip to Hawaii in 2023, there's one thing you should know before anything else: the food! Hawaii is known for its tropical flavors, so it's important to be prepared and try the local fare when you visit. Luckily, there are plenty of delicious restaurants and dishes you won't miss while traveling in Hawaii.
Coco Puffs
Liliha Bakery's signature chocolate puffs were introduced to the bakery's menu in 1970. Coco puffs are puff pastry rounds stuffed with creamy matcha or chocolate pudding and topped off with buttery Chantilly frosting.
Garlic Shrimp/Prawns
Garlic shrimp is a Hawaiian favorite, popularized on Hawaii's North Shore by Giovanni's food truck in 1993. Local shrimp are sauteed in a large quantity of garlic and finely chopped garlic until crisp. The shrimp are then served with a buttery sauce over rice.
Chocolate Haupia Pie
There are many haupia pies, but chocolate haupia pie is the most common. This pie crust is a mixture of haupia pudding (a rich coconut milk pudding layer), a chocolate layer, and whipped topping.
Huli-Huli Chicken
Huli Huli chicken refers to chicken that has been cooked on a grill, rotisserie, or over mesquite wood and then topped with sweet Huli Huli sauce. Huli, the Hawaiian word for "turn", is what you'd see in Hawaiian. It is the Hawaiian word for "turn" that customers shout out when they see the chicken turn on the rotisserie.
Hulihuli sauce tastes similar to teriyaki. It is based on a sauce that Ernest Morgado (an ex-Naval Intelligence Officer) created in 1954.
Kalua Pig
Kalua Pig is pork prepared in an imu (a traditional Hawaiian underground oven). Sea salt is used to season the whole pig. The pig is then placed in the imu. It is filled with lava stones and sealed with banana leaves. Slowly, the pig will cook until the meat falls off the bones. It has a wonderful, smoky flavor.
Tips For Saving Money – If you Traveling to Hawaii
Planning a trip to Hawaii in 2023 can be an exciting prospect. With its white sandy beaches, crystal blue waters, and unique culture, Hawaii is the perfect destination/vacation place for a relaxing vacation. Here are some great tips for saving money on your next Hawaii vacation to ensure your trip is as stress-free as possible and within budget.
Also read: 7 reasons why you must go to Hawaii
One of the best and proven ways to save money when you plan a Hawaii trip is to book your flights early. Hawaii is a popular destination; fares can be expensive if you wait until the very last minute. If you plan your trip well in advance, you can take advantage of lower fares and discounts available at certain times of the year.
You can also save money on accommodation by staying in smaller boutique hotels or hostels. These types of hotels often have more affordable rates than larger resorts. For a true Hawaiian experience, why not look into camping options? Many campsites on each island provide a unique way to explore Hawaii's stunning landscapes.
Exploring the islands can be cheap too. There are plenty of free tourist attractions in Hawaii, including volcanoes, waterfalls, beaches, and trails. You could also rent a car or bike and explore some remote areas for a fraction of the cost of other tourist activities.
Finally, if you're looking for even more savings on your trip to Hawaii in 2023, consider eating local food instead of relying on restaurant meals. The local produce and seafood are incredibly fresh, delicious, and much more affordable than eating at expensive tourist restaurants.
By following these tips for saving money, you can enjoy all the islands offer without breaking the bank. Happy travels!
What to pack when visiting Hawaii?
You can't afford to forget your swimsuits when packing for Hawaii.
You must be sure that you will be in Hawaii both underwater and under the sun on numerous occasions. These are the items you should bring:
Packing cubes can be used to organize and simplify your Hawaii travel needs. Some packing cubes have handles that can be used to hang them on a closet or bathroom rack. A laundry bag can also be used to separate dirty and wet clothes.
FAQs
How do you plan your trip to Hawaii?
It is essential to consider the purpose of your trip. Do you want to visit specific places, explore Hawaiian culture, enjoy water sports, hike, or relax? This will help you decide which island(s). Next, check the airfare and book your accommodation.
Which is the best way to travel to Hawaii at a low price?
You can see Hawaii at a very affordable price by visiting in the off-season. The cheapest month is September. You can often find the best Hawaii vacation packages and airfares at these times. Budget vacation rentals are also an option. Then, fill your itinerary with activities like hiking, swimming, and walking along the beaches.
How many days is enough in Hawaii?
Although you may not want to leave Hawaii, most people will stay for 7-10 days while on vacation. This gives you enough time to recover from jet lag, participate in scheduled activities, visit the Hawaiian islands, and relax.
Travel Web-Stories