Island Adventures: Your Ultimate Honolulu Travel Guide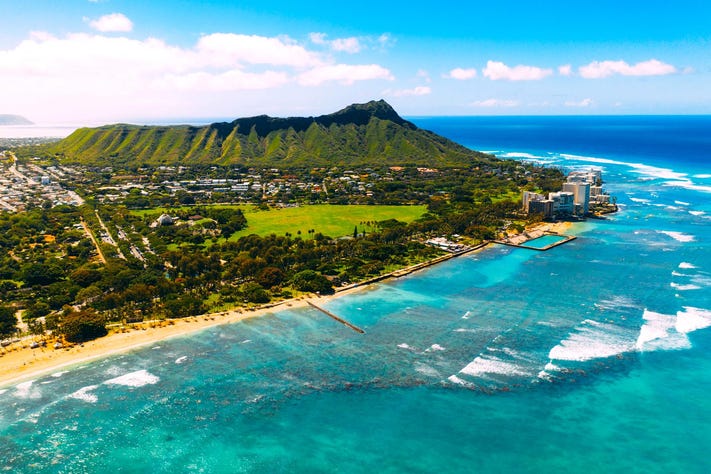 Hawaii's capital Honolulu is a beautiful and gorgeous destination that attracts millions of tourists annually. From beautiful beaches to historical landmarks, this city has something for everyone. If you are planning a trip to Honolulu, this Honolulu Hawaii travel guide is a comprehensive resource to help you make the most of your trip.
You can also read: Plan Hawaii Trip: Everything you need to know
Top 10 Tourist Attractions in Honolulu
Honolulu is a popular tourist destination and capital of Hawaii, known for its beautiful beaches, rich history, and vibrant culture. Whether you're a first-time visitor or a seasoned traveler, Honolulu tourist attractions have plenty to offer to entertain you.
1. Waikiki Beach
Waikiki Beach is one of the most well-known Honolulu tourist attractions in the world, and for a good reason. The turquoise water, soft sand, and stunning sunsets make it the perfect place to relax and soak up the Hawaiian sun. You can also find plenty of water sports activities, such as surfing, paddle boarding, and snorkeling.
2. Diamond Head
Diamond Head is an iconic landmark in Honolulu and one of the most recognizable volcanic craters in the world. You can hike to the top of Diamond Head and enjoy panoramic views of the city and the ocean.
3. Pearl Harbor
Pearl Harbor is a historic site that pays tribute to the brave soldiers who lost their lives in the attack on December 7, 1941. You can see the USS Arizona Memorial and the USS Missouri Battleship, both of which offer a glimpse into the events of that fateful day.
4. Iolani Palace
Iolani Palace is a beautiful example of Hawaiian architecture and was the residence of Hawaii's last monarchs, King Kalakaua, and Queen Liliuokalani. Today, you can tour the palace and learn about Hawaii's royal history.
5. Hanauma Bay
Hanauma Bay is a popular spot for snorkeling and is home to a diverse range of marine life. You can take a guided tour of the bay or explore independently.
6. Honolulu Zoo
The Honolulu Zoo is a fun, family-friendly attraction with over 900 animals worldwide. You can see tigers, elephants, giraffes, and many other animals.
7. Bishop Museum
The Bishop Museum is a must-visit Honolulu tourist attraction for anyone curious about Hawaiian history and culture. The museum houses over 25 million artifacts and specimens, including ancient Hawaiian artifacts and modern art.
8. Manoa Falls
Manoa Falls is a beautiful waterfall located just outside of Honolulu. You can take a scenic hike through the lush rainforest and enjoy the stunning views of the waterfall.
9. Koko Crater Railway Trail
The Koko Crater Railway Trail is a challenging hike that rewards hikers with stunning views of the ocean and the surrounding landscape. The trail features over 1,000 steps and is not for the faint of heart.
10. Chinatown
Chinatown is a vibrant neighborhood that offers a glimpse into Honolulu's multicultural past. You can explore the markets, sample local foods, and see historical landmarks such as the Oahu Market and the Chinese Cultural Plaza.
How to Reach Honolulu
By Flight
Honolulu International Airport serves as the primary gateway for Hawaii, connecting it to major cities in the United States and the Pacific. It is the base for Hawaiian Airlines, which operates flights to other Hawaiian islands and various destinations in the United States, Australia, New Zealand, American Samoa, Tahiti, Japan, China, and South Korea.
Other international airlines like Air Canada Rouge, Air China, Air New Zealand, All Nippon Airways, American Airlines, Delta Airlines, Fiji Airways, Japan Airlines, Qantas, and United Airlines also operate flights to Honolulu.
The airport provides excellent connectivity to the west coast of the United States, and there are some long-haul flights to the east coast, including Atlanta, Washington, New York, and Newark.
Honolulu International Airport is conveniently located just ten kilometers from Downtown Honolulu, making it easily accessible for travelers visiting the city.
By Bus
As Honolulu is situated on the island of Oahu, the options for road transportation are limited to towns and cities. The primary mode of transportation is TheBus, a state-run bus service covering the entire island, including popular tourist destinations like Waikiki, historic sites like Pearl Harbor, and major transportation hubs like the Ala Moana Centre, which is the main bus station for Honolulu and Oahu.
Tickets for TheBus can be purchased onboard or at the various kiosks located around the island. TheBus is developing an app to provide riders with an easier way to check schedules and book tickets. However, their website may need to be more comprehensive, so travelers are advised to double-check the information with locals in Oahu to ensure everything is okay.
Tips and Tricks for Visiting Honolulu
Honolulu Hawaii is a beautiful city with many attractions and activities for travelers of all ages and interests. However, like any popular tourist destination, you should remember a few things to ensure the best possible experience. Here are some tips and tricks for visiting Honolulu:
Plan Ahead: Honolulu is a popular tourist destination, so planning is always a good idea. Book your accommodations and activities well, especially during the peak travel season. This will help you avoid disappointment and ensure that you get to do everything you want to do.
Bring Sun Protection: The Hawaiian sun can be intense, so bring plenty of sun protection. Wear sunscreen, a hat, and sunglasses, and consider bringing an umbrella or shade tent to the beach.
Rent a Car: While Honolulu Hawaii does have public transportation, renting a car is the best way to explore the island. Rent a car at the airport or in Waikiki; there are plenty of parking garages and lots in the city.
Visit During Off-Peak Season: If you want to avoid crowds and save some money, consider visiting Honolulu during the off-peak season.
Try Local Foods: Honolulu is known for its delicious local cuisine, so try some local foods. Some must-try dishes include poke, shaved ice, and plate lunch.
Respect Local Culture: Hawaii has a rich and unique culture worth learning about and respecting. Be sure to follow local customs, such as removing your shoes before entering someone's home, and respect sacred sites and cultural events.
Be Prepared for Rain: While Honolulu is known for its sunny weather, it can rain quite a bit, especially during winter. Be sure to bring a rain jacket or umbrella, and consider packing waterproof shoes.
Stay Hydrated: The Hawaiian climate can be hot and humid, so staying hydrated is important. Be sure to consume plenty of water, and consider carrying a refillable water bottle.
Explore Beyond Waikiki: While Waikiki Beach is a popular tourist destination, Honolulu has much more to see and do. Explore other neighborhoods and attractions, such as Chinatown, Manoa Falls, and Koko Crater Railway Trail.
Things to Do in Honolulu
Surfing: Waikiki Beach is a great place to learn how to surf, with plenty of surf schools and rental shops available.
Snorkeling: Hanauma Bay Nature Preserve is one of the best snorkeling spots in Honolulu, with clear waters and abundant marine life.
Scuba Diving: Honolulu offers plenty of opportunities for scuba diving, with wrecks, reefs, and marine life to explore.
Whale Watching: If you visit Honolulu during winter, take a whale-watching tour to see humpback whales in their natural habitat.
Shopping: Honolulu has many options, from luxury boutiques to local markets.
Nightlife: Waikiki has a vibrant nightlife scene, with plenty of bars, clubs, and live music venues to explore.
Beach Activities: Apart from surfing and snorkeling, Waikiki Beach offers plenty of other beach activities, such as paddleboarding, kayaking, and beach volleyball.
Cultural Experiences: Honolulu offers many opportunities to learn about Hawaiian cultures, such as attending a hula show, visiting a Hawaiian cultural center, or taking a lei-making class.
You can also read: 15 Interesting Facts About Hawaii | You Know before planning traveling
Best Foods to Try in Honolulu
Poke: A popular Hawaiian dish with raw fish marinated in soy sauce, sesame oil, and other seasonings.
Shave Ice: A refreshing dessert made with shaved ice, flavored syrups, and toppings such as mochi, azuki beans, and condensed milk.
Plate Lunch: A local favorite consisting of a meat or fish entree, rice, and macaroni salad.
Spam Musubi: A snack made with a slice of grilled spam on top of a block of rice and wrapped in nori.
Malasadas: A Portuguese-inspired dessert similar to a doughnut, usually filled with custard, chocolate, or other fillings.
Conclusion
Honolulu Hawaii is a beautiful and vibrant city with plenty of attractions and activities for travelers of all ages and interests. Following our comprehensive Honolulu Hawaii travel guide, you can make the most of your trip and discover Honolulu's best. Honolulu has something for everyone, whether you want to relax on the beach, explore historical landmarks, or indulge in local foods.
You can also read: Unveiling the Secrets: Interesting Facts About Hoover Dam
Also, read travel stories with visuals: