Shri Ramayan Express Train | All You Need To Know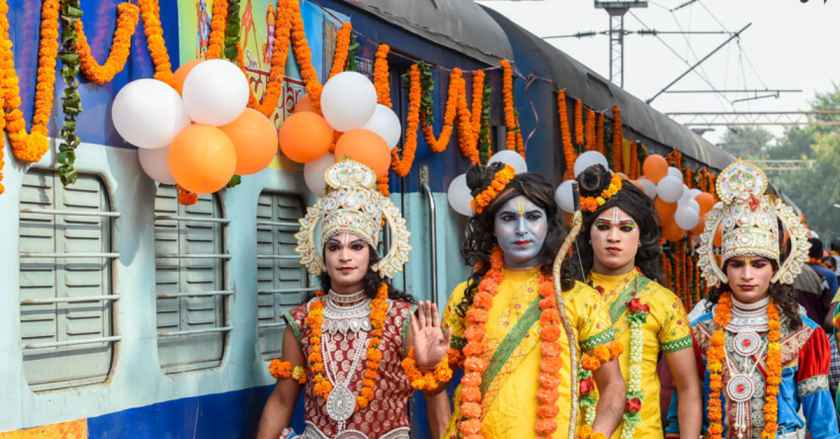 Shri Ramayana Express Train, India's longest and the world's fourth longest railway route, connecting the holy cities of Rameshwaram and Dwarka, was recently renamed Ramayana Express to honor the journey undertaken by Lord Ram and his wife Sita during their exile period.
The Ramayan Express train will depart from Safdarjung Station in Delhi in 17 days and visit all the destinations associated with Ramayana and Lord Rama. There also will be adequate security arrangements on the train, as well as a guide and tour manager who will provide information on every aspect of the trip.
Also Read: Kedarnath Yatra
Ramayan Express Route
Ramayana Express Train covers the Following Places:
Ayodhya
Nandigram
Janakpur (Nepal)
Varanasi
Prayag (Allahabad)
Shringverpur
Chitrakoot
Nasik
Hampi
Rameshwaram
A Ramayana Express Train Tour from Delhi will be thrilling for tourists interested in religious attractions. Various packages will also lead you to Madurai as the Ramayana Yatra Madurai Train journey starts on November 16 and will last for 12 nights and 13 days. Several other trains will run from November 25 for 16 nights and 17 days, including Shri Ramayana Yatra Express- Sri Ganganagar.
| | |
| --- | --- |
| City | Mandir/Temples |
| Ayodhya | Ram Janmbhoomi and Hanuman Garhi |
| Varanasi | Tulsi Manas Mandir and Sankat Mochan Mandir |
| Sitamarhi (Bihar) | Sita Mata Mandir |
| Nandigram | Bharat Mandir |
| Janakpur (Nepal) | Ram-Janaki Temple |
| Prayaag (Allahabad) | Hanuman Mandir and Bharadwaj Ashram |
| Chitrakoot | Ramghat and Sati Anusuiya Mandir |
| Shringverpur | Shringi Rishi Mandir |
| Hampi | Anjanadri Hill and Hanuman Janm Sthal |
| Rameshwaram | Jyotirlinga Shiva Mandir |
Ramayana Express Train Attractions
Ramayana Express Train Facilities
Tourists on the Shri Ramayana Express will only offer vegetarian food and accommodation, with wash and change facilities for travelers in Dharamshala. So hotels will offer a shower and change facility for those traveling in AC Class. Meanwhile, non-AC passengers will have an arranged sightseeing experience. A travel consultant for IRCTC will assist passengers during the entire tour.
When the train schedule falls during the 'Navratra' period, the pantry car will carry fasting food such as fruits, sabudana khichdi, curds, and potatoes.
Train journey in the Ramayana Express sleeper train.
Ramayan Express Train Tour Package would include vegetarian meals.
Ramayana Circuit Train will include a night's stay and AC accommodations.
All transfers and sightseeing in vehicles are included in the tour.
IRCTC Tour Managers would be available at all times inside the train.
Security guards will accompany trains.
Registered tour escorts will accompany guests to every tourist destination.
Travel insurance and any applicable taxes would be included in the tour package.
Ramayan Express Train Tour Package will also offer adequate medical facilities to meet the needs of tourists.
Also Read: Travel To Uttarakhand
Ramayan express train ticket price
IRCTC will operate the 14-coach train. It will include 11 air-conditioned three-tier coaches for tourists and a pantry car. A separate coach is available to train staff.
Tourists will be served vegetarian meals that are freshly prepared onboard. An infotainment system on the train, as well as CCTV cameras and security guards, to ensure safety," said an IRCTC official. It can carry up to 600 tourists.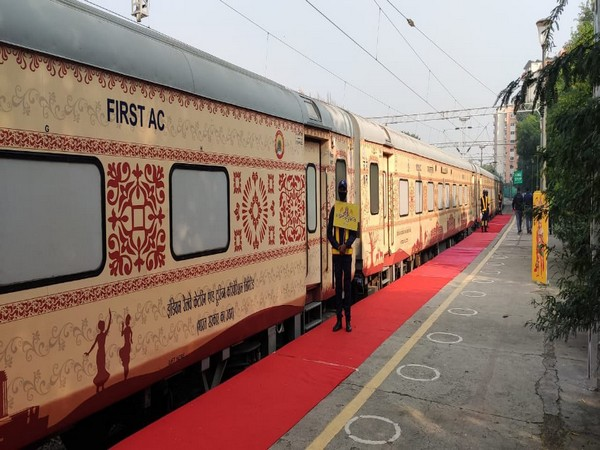 IRCTC also made other modifications to this train. The number of travel days, fares, and destinations have all increased. The journey of the Shri Ramayana express train used to be 17 days long. Now, it will take 20 days. Three new religious sites associated with Lord Shri Rama were also added. Passengers will now be able to visit Bihar's Buxar, Tamil Nadu's Kancheepuram, as well as Telangana's Bhadrachalam.
While the cost was lower because of shorter travel time and fewer places, it has increased. The first AC's fare will now be Rs 1.25 Lakh, as opposed to Rs 1.02 Lakh earlier. The second AC's fare has been increased to Rs 98,000. This is an increase of Rs 82,000.
Ramayana Express Train Booking
Book the Bharat Darshan Special Tourist Train online at the IRCTC website. You can also book through IRCTC Tourist Facilitation Center, Zonal Offices, and Regional Offices.
Here's how to book tickets on IRCTC
Step 1: Visit at irctc.co.in
Step 2: Click on the Login option on the homepage
Step 3: Log in to access the 'Book Your Ticket' page
Step 4: Enter the starting and ending stations, boarding and destination stations
Step 5: Choose the date and class of your journey
Step 6: Verify that the seat you want is still available on your chosen train.
Step 7: Click on the book now option if seats are still available
Step 8: Enter the required information to book tickets
Step 9: Enter your mobile number and captcha
Step 10: Pay online charges using a credit card or debit card, net banking, or UPI.
Step 11: You will finally receive a message on your phone.
Also Read: Solo Backpacking Tips
Ramayana Express FAQs
How much is the Ramayan express fare?
The first AC's fare will now be Rs 1.25 Lakh, as opposed to Rs 1.02 Lakh earlier. The second AC's fare has been increased to Rs 98,000. This is an increase of Rs 82,000.
What is the Ramayan express route?
Throughout this tour, guests will be traveling about 7500 km. IRCTC launched this special tourist train as part of a project spearheaded by the Indian government, Dekho Apna Desh, to promote domestic tourism.
How long does the Ramayan express train take to complete the journey?
The journey takes approximately 20 days.
What are the facilities available on the train?
All the facilities are mentioned above. The train has AC and non-AC classes, a pantry car, and an onboard entertainment system.
Is there any discount available on the tickets?
Yes, there are discounts available for senior citizens and children.
How do I book a Ramayana Express Train?
IRCTC launched the Ramayana Express Train Tour. IRCTC's website is the best place to book your tour.
You can also read the latest Travel Web-Stories