Merida travel guide: Discovering the Hidden Gems of Merida
Merida is the cultural capital of the Yucatan Peninsula in Mexico, known for its historic charm, colonial architecture, and vibrant cultural scene. The city is an ideal destination for travelers seeking an authentic Mexican experience. It boasts a rich history, diverse cuisine, and a plethora of activities to enjoy. In this Merida travel guide, we will look at the city, its top attractions, the best time to visit, and some essential facts you should know before embarking on your Merida tour.
You can also read: Best tourist places in Brazil: A Complete Brazil Travel Guide
Overview of Merida travel guide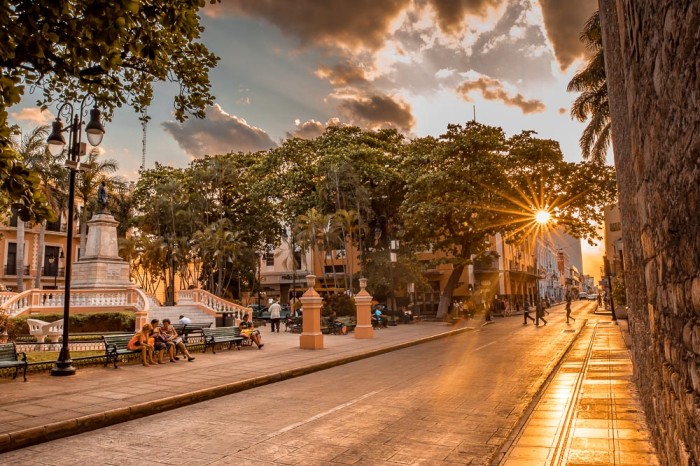 Merida is located in the Yucatan Peninsula, about 320 miles west of Cancun. It is the capital city of the Yucatan state and one of the largest and most important cities in southeastern Mexico. The city was founded in 1542 by Spanish conquistadors and has since grown into a bustling metropolis with over one million people. Merida is a melting pot of Mayan and Spanish cultures, evident in its cuisine, art, and architecture.
It is a vibrant and colorful city rich in history, culture, and tradition. Here is an overview of Merida that highlights its top features:
History and Architecture: Merida has a rich history that dates back to the pre-Columbian era when it was a Maya city called T'ho. After the Spanish conquest, the city was rebuilt in a colonial style, and many of its buildings and landmarks reflect this history. The city has a beautiful historic center, home to several architectural landmarks like the Merida Cathedral and the Palacio de Gobierno.
Culture and Tradition: Merida's vibrant cultural scene celebrates its traditions and customs. The city is known for its colorful festivals, such as the Day of the Dead and the Hanal Pixan, celebrated with parades, music, and traditional food. Merida is also famous for its Yucatecan cuisine, a fusion of Maya, Spanish, and Caribbean flavors.
Hospitality: Merida is known for its warm and welcoming hospitality, and the locals are friendly and always willing to help visitors. The city has several hotels, hostels, and guesthouses that offer comfortable accommodations and excellent service.
Best Things to Do in Merida
Merida, the vibrant capital city of the Mexican state of Yucatan, is rich in history, culture, and tradition. Here are the best things to do in Merida that you should not miss during your visit:
Walk along the Paseo Montejo: The Paseo Montejo is a wide boulevard with stately mansions and colonial-era buildings. It is a great place to stroll and admire the city's beautiful architecture.
Watch a Game of Pok Ta Pok in the Plaza Grande: Pok Ta Pok is an ancient Maya ball game still played in some parts of Mexico. The Plaza Grande in Merida is great for watching a game and learning about this fascinating tradition.
Ride Along the Biciruta on Sunday Mornings: On Sunday mornings, the streets of Merida are closed to traffic, and cyclists take over the city. The Biciruta is a popular cycling route that surpasses some of the city's top attractions.
Go on a Free Walking Tour of Merida with a Local Guide: Merida has a rich history and culture, and there is no better way to learn about it than by taking a walking tour. You can explore the city's historic center, visit museums, and learn about its traditions and customs.
Take a Tour of the Palacio de Gobierno: The Palacio de Gobierno is the seat of the state government of Yucatan and is a beautiful building with a rich history. You can take a guided tour of the building and see its murals depicting the Yucatan region's history.
Check out the Merida Cathedral: The Merida Cathedral, located in the city's historic center, is a beautiful example of Spanish colonial architecture. It was built in the 16th century and is one of the oldest cathedrals in the Americas. You can admire the cathedral's ornate interior and beautiful stained-glass windows.
In addition to these top attractions, Merida has several beautiful parks, museums, and galleries worth visiting. It is also an excellent base for exploring the surrounding area, including the beautiful beaches of the Yucatan Peninsula.
Merida Beaches
Merida is not a coastal city, so there are no beaches in the immediate vicinity. However, several excellent beaches are within a few hours' drive from the city, including Progreso, Sisal, and Celestun. These beaches are known for their soft white sand, clear blue waters, and abundant marine life.
The Best Time to Visit Merida
The most suitable time to visit Merida is during the dry season, which ranges from December to April. The weather during this period is sunny and pleasant, with temperatures ranging from the mid-70s to the low 90s. The wet season, which runs from May to November, can be hot, humid, and rainy, so it is best to avoid this period if possible.
How to Get to Merida
Merida is a city in Mexico with an international airport, which is served by increasing direct flights. It is the primary gateway for visitors to the city, and if you need help finding a direct flight, you can get a bus from Cancun to Merida, which takes around 3.5 hours.
Once you arrive at the airport, finding a reasonably priced form of transportation to the city center can be challenging. Uber drivers cannot enter the airport property and can only pick up passengers on the road outside the airport, which means that they are only sometimes easy to find. Taxis are a good option, safe and reliable in Merida. Most drivers operate honestly, and you are less likely to be ripped off than in other parts of Mexico. However, negotiating the fare before getting in the taxi is still a good idea.
Another option is to take the ADO bus service from the airport to the city center, which runs only a few times daily. If the bus leaves soon after your arrival, it is a comfortable and affordable option. The bus ride takes about 20 minutes to reach the city center.
Overall, there are several options to reach Merida, and choosing the most convenient and affordable option for your needs is essential. Whether you choose to take a taxi, Uber, or bus, it is advisable to research beforehand and negotiate the fare to ensure a hassle-free journey to your destination.
How to Get Around Merida
Merida is a relatively compact city, and getting around on foot or by bike is easy. Walking is an excellent option for short distances and is an excellent way to explore the city's historical center, parks, and local neighborhoods.
Another way to get around Merida is by bus. The city has an extensive bus network that covers most areas of the city, including the outskirts. Buses are affordable and operate from early morning until late at night. However, the bus system can be confusing for first-time visitors, and figuring out which bus to take may take a lot of work.
Taxis are another option for getting around Merida, and they are relatively cheap. Taxis are generally safe, and the drivers are honest. However, it is advisable to negotiate the fare before getting in the taxi to avoid being overcharged.
Uber is also available in Merida, but as mentioned earlier, finding an Uber at the airport can be challenging. However, once you are in the city center, Uber is a convenient and affordable way to get around.
Finally, if you are looking for a unique way to explore the city, you can hire a horse-drawn carriage or a tricycle taxi, known as a "tricitaxi," which can be found in the city's main square.
Important Facts about Merida
Here are some essential facts that you should know before embarking on your Merida travel:
Language: Spanish is the official language of Merida, and while many locals speak English, it is always a good idea to learn some basic Spanish phrases before your trip.
Currency: The official currency of Mexico is the Mexican peso, which is widely accepted in Merida. You should exchange your currency at a bank or an exchange bureau for the best rates.
Transportation: Merida has an excellent public transportation system, including buses and taxis. You can also rent a car to explore the city alone.
Food: Merida is known for its diverse cuisine, which includes Yucatecan dishes like cochinita pibil, panuchos, and salutes. The city also has several excellent restaurants serving international cuisine.
Also read: Interesting facts about Florida: Know everyone before traveling
Is Merida Safe to Visit?
Merida is generally considered safe for tourists, but like any city, it is essential to take some precautions to avoid unpleasant incidents. It is advisable to stay in well-lit areas, avoid carrying large sums of cash or expensive items and be aware of your surroundings at all times. Using licensed taxis and avoiding walking alone at night is also recommended.
Conclusion
Merida is a beautiful city that offers a unique blend of history, culture, and cuisine. With its charming colonial architecture, vibrant cultural scene, and friendly locals, it is no wonder that it is becoming an increasingly popular tourist destination. This Merida travel guide has provided a detailed overview of the city, its top attractions, and some essential facts that you should know before embarking on your Merida tour. Whether you are interested in exploring the city's rich history, trying out its delicious cuisine, or simply soaking in its vibrant atmosphere, Merida has something for everyone.